If you are a lover of guitar music, you may want to buy one guitar in the following list.
1949 Fender Broadcaster prototype: 375,000, This particular model to be the pioneer for the company's as a most famous guitar maker. This guitar sells to a collector in 1994 with a price of 375,000. The highest price for a guitar at that time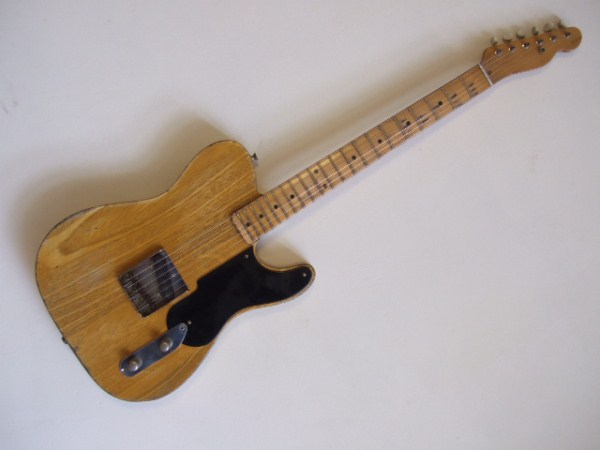 Eric Clapton Stratocaster Gold Leaf: 455,550. Guitar booked by Eric Clapton in 1996. Clapton wanted a very special guitar. The company makes custom fenders are coated with 23k gold.


George and John Gibson SG 1964: 570,000 used by The Beatles between 1966 and 1969. George Harrison used it when recording and touring for the album Revolver. John Lennon uses the same guitar during the sessions of The White album.


Blackie Stratocaster hybrid: 959,500 Clapton bought six vintage strats from guitar shop in Texas with the price of each one hundred dollars. He gives 3 to George Harrison, Pete Townshend and Steve Winwood. Then he uses 3 others and that is named Blackie. Clapton first played Blackie in January 1973 and continued playing until 1985.


Bob Marley Custom made Washburn Hawk 22 series: The price estimate of 1.2-2000000, classified as a national asset by the government of Jamaica. This guitar is one of seven guitars owned by Bob Marley.


Eric Clapton C.F. Martin Co, circa 1939: 791,500 owned by Eric Clapton who sold to donate to Crossroads Rehabilitation Center that provides individuals with alcohol drug addiction recovery.


Reach Out to Asia Fender Stratocaster: 2,700,000 signed by Mick Jagger, Keith Richards, Eric Clapton, Brian May, Jimmy Page, David Gilmour, Jeff Beck, Pete Townsend, Mark Knopfler, Ray Davis, Liam Gallagher, Ronnie Wood, Tony Iommi, Angus Malcolm Young, Paul McCartney, Sting, Ritchie Blackmore, Def Leppard and Bryan Adams.


Eric Claptons 1964 Gibson ES0335 TDC: 847,500.


Eric Claptons 1964 is the guitar most often used by Eric Clapton during the year 1964 but after that is rarely used. This guitar sold for 847,500, this guitar is the most expensive Gibson guitars being sold in an auction.


Jimi Hendrix Stratocaster 1968: Estimated Price 2,000,000.


This guitar played by Jimi Hendrix at Woodstock in 1969. From 1970 to 1990, this guitar belonged to Mitch Mitchell. This guitar was sold at Sothebys in 1990 was 198,000. After that, the rumors say that Paul Allen of Microsoft to pay 2 million dollars for this guitar.